The Debs Difference

The Debs Shopping experience is Contemporary, Cool, and Uplifting. we've created a warm and welcoming space to serve you, our customer for all of your jewelry needs.

Jeffrey Debs Custom Shop
Philadelphia's Trusted Jeweler Since 1956
The "Debs Difference" is taking the time to help our customer select the right piece of jewelry for that special person or occasion and to offer clarity and comfort in understanding your purchase so as not to feel like you're buying a "Blind" item.
We search far and wide within the wholesale marketplace to bring you, our customer the very best value at a most competitive price, and we'll share with you some industry inner workings to better inform you of the differences between a typical e-commerce purchase versus one through a traditional brick and mortar store such as ours and how each experience can be drastically different.
Within our pressure and hassle-free original location on South Eighth Street Jeweler's Row, we welcome you to a fun, contemporary cool and uplifting shopping experience..the "Debs Difference" and learn for yourself why "Debs (is) for Diamonds!"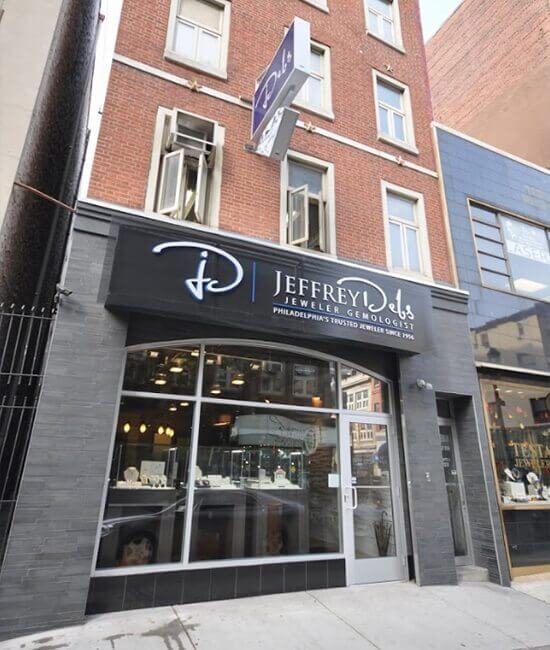 Debs History
Circa 1941, The United States having just been drawn into war by the attack on Pearl Harbor, Hawaii , found itself needing to restore part of it's naval fleet. Philadelphian Philip P. Debs, son of a Russian immigrant, was employed as a welder in the Philadelphia Naval Shipyard working on building America's last battleship, The New Jersey. A natural born people-person and entrepreneur at heart, having had many odd jobs including selling fruit from a horse-drawn cart in the streets of South Philadelphia, dreamed of a better life for himself and his family.
Store Hours
We'll be closed for the day Saturday, November 18th for a family celebration. We're sorry if this causes any inconvenience. We'll reopen Tuesday, November 21st at 10:00 am.
Tue: 10am - 4:30pm
Wed: 10am - 4:30pm
Thu: 10am - 4:30pm
Fri: 10am - 4:30pm
Sat: 10am - 4:30pm