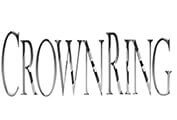 Crown Ring
Crown Ring: Fit for a king and queen.
The special moments in life that take your breath away are few and far between. That's why longtime friends Thierry Bellisha and Haimy Mann set out to celebrate these milestones by founding Crown Ring in 1999; a collection of spectacular bridal jewelry that brings happily ever after to life.
The history of metalworking spans cultures, civilizations, and millennia. Metal is specifically forged/crafted for gargantuan ship structures, beams for skyscrapers, particular engine parts, and fine jewelry…
When a couple gets married they are king and queen of their world, ready to reign over their new life. This is the concept behind Crown Ring, creating jewelry fit for royalty. Crown Ring offers wedding rings in 10, 14, 18 karat white, yellow & rose gold, as well as palladium and platinum all manufactured in their Montreal, Canada facility. Enrich the history of metals by wearing a Crown Ring.
Coming Soon