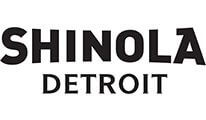 Shinola Detroit
After the decades-old established watch brand Fossil reached global acclaim, now a major industry influencer and an accessory product line, co-founder Tom Kartsotis aimed to bring the pride back to American manufacturing once again, rechristening the World War II shoe shine company's timeless name "Shinola" as the industrial game changer "Shinola Detroit." Housed within the historic Argonaut building (historical design birthplace to the Chevrolet Corvette Stingray), the company manufactures a variety of women's and men's watches inside Detroit's own state-of-the-art watch factory.
The question isn't why you'd build a watch factory in Detroit, it's why you'd want to see American jobs go anywhere else. Shinola has been working to bring manufacturing jobs back to Detroit and back to this country. They build their goods to last, but of all the things they make, American jobs might just be the thing they're most proud of.
Producing high-quality, handcrafted products is a collaborative enterprise. That's why they've partnered with a group of extraordinary American manufacturers whose obsession with craftsmanship and quality matches their own. Each of their partners, including watch straps from the likes of Horween Leather, one of America's oldest and finest tanneries, has a long legacy of making products that are beautiful, meaningful, and made to last. Combined with a stainless steel casing, sapphire crystal, and "Argonite" Swiss quartz movement, a Shinola watch is quality. Meticulous hand-assembly and premier advanced technology combine to ensure their watches are both beautiful and built to last.